Rural Changemaker
Type: Summer with possibility of extended position
Eligibility: 30 years or younger
Organization: Sustainable Brant / Better Brant
Location: Brant/Brantford, Ontario
Housing: private on site suite optional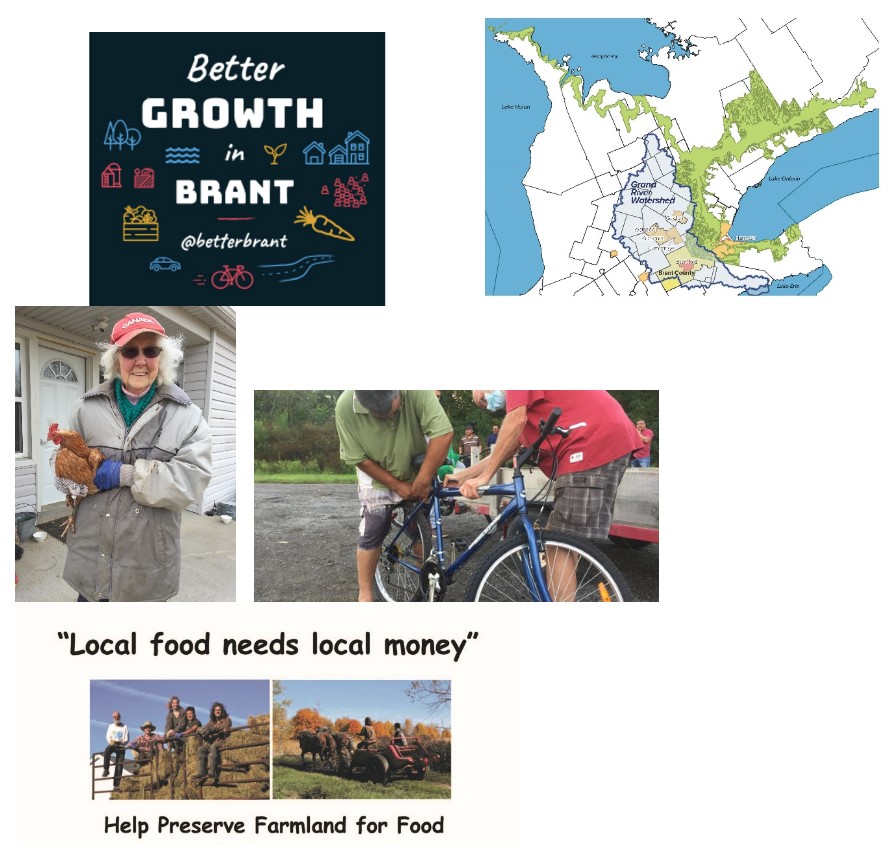 Are you interested in helping to protect farmland? Would you like to see more inclusive rural communities? We are seeking someone who is highly motivated to learn and develop skills related to ecological land use planning, community outreach, conservation, and fundraising.
Our organization is dedicated to protecting farmland and preventing sprawl in Brant County, and fostering an inclusive rural community. We help residents to understand land use planning and to learn how they can have a say in local community planning. We do research, host teach-ins and create and distribute user friendly information on best practices of rural land use planning. We also work to reduce food waste (food rescue and redistribution) and promote an inclusive rural community with special outreach to seniors (community meals and events) and migrant farm workers (e.g. teaching English as a second language, community meals and events, food drops and distributing bikes). We also support the Langford Conservancy in its work to create a farm for new small scale ecological farmers. Helping new and young ecological farmers to access affordable farmland is a priority for us.
Job Description: you would be involved in helping with the following:
land title research,
helping the public to understand land use planning and to participate in the planning process (e.g., hosting community meetings, film nights and guest speakers and social media posts related to our work),
a local project enable to new and young ecological farmers to access affordable farmland (e.g. helping with a community bond campaign, fundraising)
teaching owners of farmland about tools to protect land (e.g., conservation easement, ground lease, land trusts, community land trusts),
a forest rehabilitation project (e.g., trail rehabilitation, tree planting, removal of invasive weeds),
community outreach to migrant farm workers (e.g. ESL, preparing food drops, sourcing used bikes and delivering bikes), and
eco-tourism with a special focus on seniors (e.g. nature walks, cycling).
Experience is desired but not necessary. Please clearly indicate in your cover letter any relevant experience or interest in the work that we are involved in. For the right candidate, training can be provided.
A continuing position in the fall and winter may become available.
Application Details:
must be legally allowed to work in Canada (a Canadian citizen, permanent resident, or refugee),
Please send a cover letter explaining why you are interested in this position.
We are pleased to consider all qualified applicants for employment without regard to race, colour, religion, sex, sexual orientation, gender, national origin, age, disability, or any other legally protected factors.
We do not tolerate discrimination or harassment and strive to create an inclusive and positive work-environment for all.
We encourage applications from folks who are under-represented in rural-Canadian agriculture — Indigenous, Black, and people of colour, LGBTQ2S+, as well as those with disabilities.
This can be a physically demanding job at times.
Term: immediate to Aug. 30 with a possibility to extend the position
Eligibility: Must be between 18 and 30 years old
Pay: $17.00 – 19.00/hour 35 hours/week
Benefits: organic fruit, vegetables and eggs, discount on herbal products, 4% vacation pay
Schedule: flexible 7-hour day shift, Monday to Friday, occasional weekends, evenings
Assets: land use planning training, Spanish, experience teaching ESL, GIS, driver's license, own transportation, Excel, financial planning
Experience: 1 year of related work (preferred)
Optional: Hybrid model with some work from home
To Apply:
Send relevant cover letter & resume to: Ella Haley, ehaley1@gmail.com;
Inquiries, contact Ella at 226-802-2801